Drum up the excitement as NCCC Supermarket celebrates the 30th Kadayawan Festival! Be a part of this wonderful experience together with the Mindanao's No. 1 Replenishment Destination with endless shopping deals, exciting treats and surprises.
To kick off Kadayawan fever, NCCC Supermarket associates show off their creativity in Kasuotan sa Kadayawan through native costumes of the different kinds of fruits and flowers that represents the bountiful harvest of Davao City. Catch this on August 21, 2:00pm at NCCC Mall Davao, Activity Center.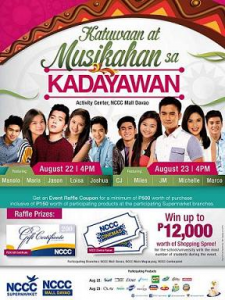 Also, delight in the bountiful harvest of Davao City and make the most of your week-long Kadayawan experience by availing amazing deals such as: Sari-Sari Store Packs (SSSP) where you can get more premium items on bundles intended for entrepreneurs, Diskwento Sa Sweldo (DSS) where you can get up to 30% off on great selections during paydays, and Sulit 'to Bai, Sulit to Buy (STB) where you can get discounts, price-offs and bundles on food and non-food categories.
Make savings even better by checking out exciting fresh offers such as buy 1 take 1, Price-Offs, Special Bundled Packs on selected Fresh products and get freebies such as free Entrance Ticket to Eden Nature Park, Paradise Beach Resort or Maxima Aqua Fun Resort. All this and more this August 21 to 23 with Kadayawan FRESHtival at NCCC Supermarket.