Mareng Inday Kanegosyo Caravan at Digos City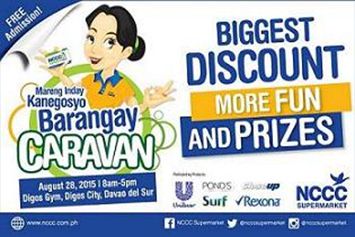 Make way for NCCC Supermarket as Mareng Inday brings the Kanegosyo Caravan this August 28, Friday at the Digos Gymnasium, Davao del Sur.
Mareng Inday is known as a character retailer of NCCC Supermarket who sells quality products and offers good service. Bringing together its wide variety of products in good quality from basic grocery needs to household necessities sold at affordable prices, NCCC will take along the convenience of shopping closer to its patrons especially in towns and municipalities.
This one-day caravan will showcase 20 exhibitor booths to cater Davao del Sur residents with hours of convenient shopping while availing of exclusive deals and special discounts on product bundles starting at Php50.00.
This will provide huge amount of savings for shoppers especially for Kanegosyo Partners, who are business owners and entrepreneurs which purchases are in bulk.
Furthermore, exciting games, product samplings, on the spot giveaways and a lot more awaits shoppers starting 8am.
To formally open the event, NCCC Supermarket Centerpoint Store Manager, Evylia Constantino together with Digos City Mayor, Atty. Joseph R. Pena, will lead the opening ceremony.
Mareng Inday Kanegosyo Barangay Caravan is presented by NCCC Supermarket, Ang Supermarket Natin and Unilever Philippines – in partnership with Colgate-Palmolive Philippines, Sunpride Foods, Inc., Pepsi Cola Products Philippines, Inc., Cosmetique Asia Corporation, Virginia Foods, Inc., Foodsphere, Inc., Century Pacific Food, Inc., ACS Manufacturing Corporation, Alaska Milk Corporation, Procter & Gamble Philippines, Nestle Philippines, Monde Nissin Corporation, Johnson & Johnson, Mega Fishing Corporation, Dairenz Snack Marketing, Gentle Supreme Philippines, Inc., JS Unitrade and 3M Philippines, Inc.